June 17, 2014: The CTIA reported a 120% increase in US wireless traffic in 2013. Their annual survey results includes historical anonomized data from all the major US wireless operators http://www.ctia.org/resource-library/press-releases/archive/ctia-annual-survey-2013.
The previous annual report for 2012 showed a moderating growth rate of 67% which suggested a less than exponential growth rate. However, yesterday's report shows accelerating growth to 120% year over year. Averaged over the past 4 years, the Cummulative Annual Growth Rate (CAGR) is 104%, more than doubling each year.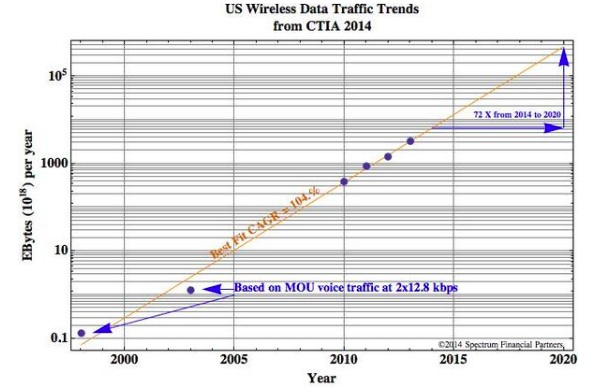 ​
With a $33 Billion capital investment (not including spectrum aquisitions) the US mobile operators delivered 3.23 trillion MB (ExaBytes) of wireless data, 70% of which was video traffic (189 PB/month).
This impressive and sustained growth is a surprise to this author who had expected that the traffic would continue to grow at prodigious rates (about 50%) but no longer doubling each year as it did with smart phones were first introduced. Perhaps the great rescession is sufficiently over that a new spurt of growth is occuring.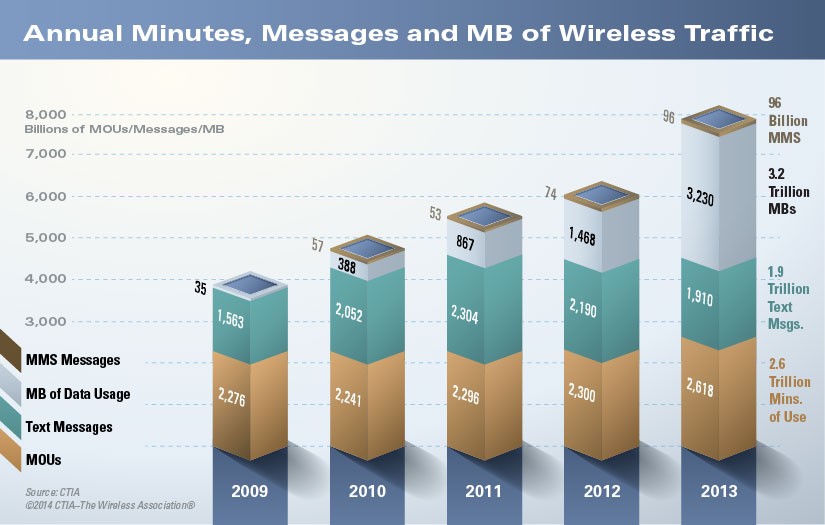 ​
​This supports the notion that additional spectrum is increasingly needed to address the explosive growth in demand. There were only 2581 additional cell sites added in 2013.
The full report is available at: http://www.ctia.org/docs/default-source/Facts-Stats/ctia_survey_ye_2013_graphics-final.pdf?sfvrsn=2
Mobile Trends in the United States, 2010-2013




2010

2013

The Delta

Subscribers

296 million

336 million

+13%

78 million

175 million

+124%

Tablets (CMRS only, not Wi-Fi)

14 million

25 million

+86%

Total handsets available

630

790

+25%

Handset manufacturers

33

50

+51%

Data Traffic

388 billion MB

3.23 trillion MB

+732%

Minutes of Use

2.24 trillion

2.62 trillion

+17%

MMS traffic

57 billion

96 billion

+70%

Video Traffic*

24 PB a month

189 PB a month

+688%

Incremental Capital investment

$25 billion

$33 billion

+33%

Cumulative Capex

$310 billion

$398 billion

+29%
Sources: CTIA, *Cisco